About JMLED關於我們
About JMLED Alliance
◘ About JMLED Alliance
JMLED Lighting Alliance has brought together the leading companies across the upstream, midstream and downstream sectors in the LED industry.
Integrating experts in the mechanical, thermal conductivity, optics and electrical fields, we have developed a series of patented COB high power LED thermal superconducting light engine module, and many high efficient LED lighting products.
With our concept of energy efficiency we use this idea to build a great living environment and share the aesthetics of lighting solutions. Starting from Taiwan, We are moving towards achieving a goal to "Light up the World".
◘ Core Value
Sufficient and Eco-friendly, Save the Planet, Sustainable Development
◘ Milestones
2009 ►Sunyeer Technology Co., Ltd. is the subsidiary company of Janman
Precision Industry Co., Ltd(http://www.janman.net).
2010 ►Sunyeer Technology Co., Ltd been granted patent for "Highly Efficient Conductivity of
Heat Sink for Application in LED Lighting."
2011 ►Specializing in High Power LED Lighting Design and Manufacture.
2012 ►Certificed by ISO 9001 Quality Management System.
►JMLED has granted for official trademark in Taiwan/China/Vietnam/Indonesia.
►Integrating Photonics, Optoelectronics, Mechanical, Electronical field into a unique
JMLED Alliance.
2013 ►Granted patent for " LED Lighting structure with Evalate heat Dissipation Effect."
►Granted 10th National Brand Yu-Shan Award-Best Product & Outstanding Business Award.
►Established Oversea sales office in Vietnam.
2014 ►JMLED products series have been awarded for "2014 Taiwan Great Quality Product Diamond Award".
►JMLED Jas been granted for the best Quality of Golden and Diamond Demonstration Enterprise Award.
►Established Oversea Sales office in Indonesia.
2015 ►Capital increase by Cash 3500,000.00 USD, renamed company name for Sunyeer Lighting Technology Co., Ltd.
►GA series has been granted for CE, CB certificates, and are well received in Dubai, Mexico, Japan, Cambodia & Africa.
►ST series has been granted for Mexico certificate.
►Certified as DE Class Mechanical Design and Lighting Design Consultant by Technological Service Organization
Industrial of Development Bureau, Ministry of Economic Affair.
2016 ►Certified as RD Class Lighting Design and Design the Efficient line for Mass Production Consultant by Technological
Service Organization Industrial of Development Bureau, Ministry of Economic Affair.
►GA-80W, 120W been granted for Energy Label by Bureau of Energy, Ministry of Economic Affair.
2017 ►MA series been granted BSMI and CE certificate.
►GA, SN series been granted CB certificate.
►Granted patents for " Easy Installation and Efficient Heat Dissipation for LED Lighting structure", " LED Project Lighting
with water proof feature", LED Lighting package Module with Power Supply"
◘ Alliance Policy
Quality persistence, quality service, R&D development, interest sharing, value creation.
◘ Envision
With a formal development approach starting from the resource integration of R&D, manufacturing, marketing, and channels, we plan to establish our reputation in domestic market before setting forth our global scheme with active promotion of optimal high power LED and contributing to the global development of green energy and energy saving.
◘ Feature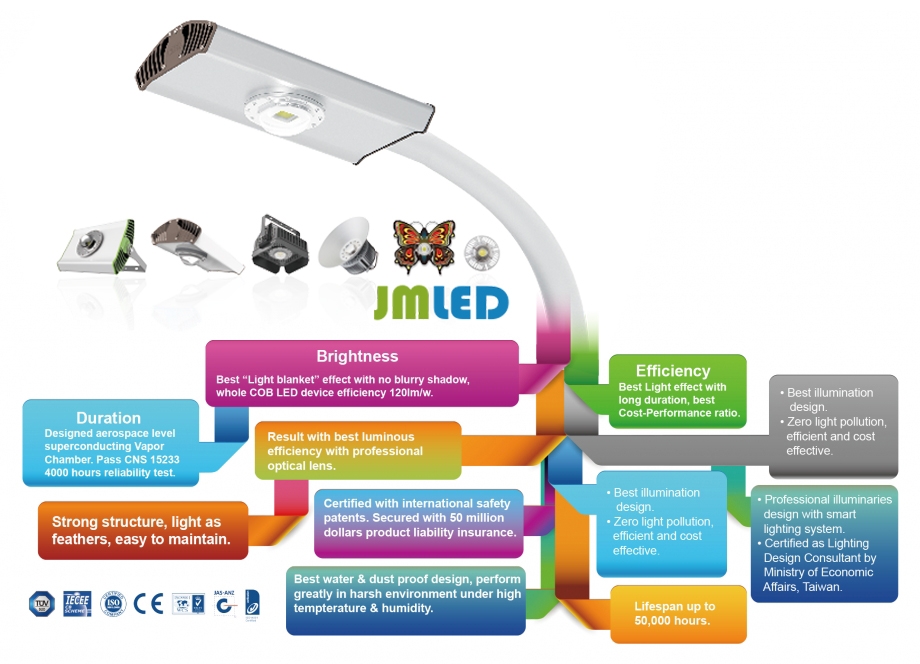 ▲ Low Luminous decay rate: Duration more than 50,000 hours with lower than 1% of luminous decay rate.
▲ Outstanding performance: Sustainable product which remain great performance under dusty, high temperature and humidity environment.
▲ Lasting Duration: With unique heat thermal techniques made lighting devices last more than 50000 hours.
▲ Waterproof Design: Best water proof design with warranty of IP65 and above.
▲ Light as Feather: 150W series is less than 8KG which is relatively lighter than competitors' products.
▲ Luminous Quality: With professional outstanding design, lighting quality is enhanced to the best condition
▲ Artificial Intelligence: Equipped with compatible artificial adjusting device.
▲ Energy Saving: No pollution, no UV and blue light hazard and 100% recyclable.


JMLED Lighting Alliance ( Taiwan )
No. 1, Wenming 3rd St., Guishan Dist., Taoyuan City, 33383 Taiwan (R.O.C.)
TEL +886 3 318 1018 FAX +886 3 327 7897
EMAIL tw@ jmled.tw
www.jmled.tw
JMLED Lighting Alliance ( Kaohsiung )
No.32, Xianming Rd., Qianzhen Dist., Kaohsiung City 806, Taiwan (R.O.C.)
TEL +886 7 7250298 FAX +886 7 7250125
EMAIL ryan@ jmled.tw
JMLED Lighting Alliance ( Vietnam )
7F M-H Building, 728-730 Vo Van Kiet Blvd, W. 1, D. 5, HCMC, Vietnam
TEL +84 8 66 533 833
EMAIL jy@ jmled.tw